About The Project
Revolutionizing living in Markham, Origin Lofts brings a unique and special residence to an in-demand area with great shopping, amenities, and transit access. Its soft loft design extricates it from the typical low-rise condominium design, yet it manages to perfectly complement the already establish neighbourhood and community. Soft lofts take the benefits of a traditional loft without the industrial warehouse feel of traditional lofts. You'll enjoy open-concept living, high ceilings, with huge windows that let in plenty of light no matter the weather. Origin Lofts consists of four blocks totalling 112 units of single and multi-level lofts.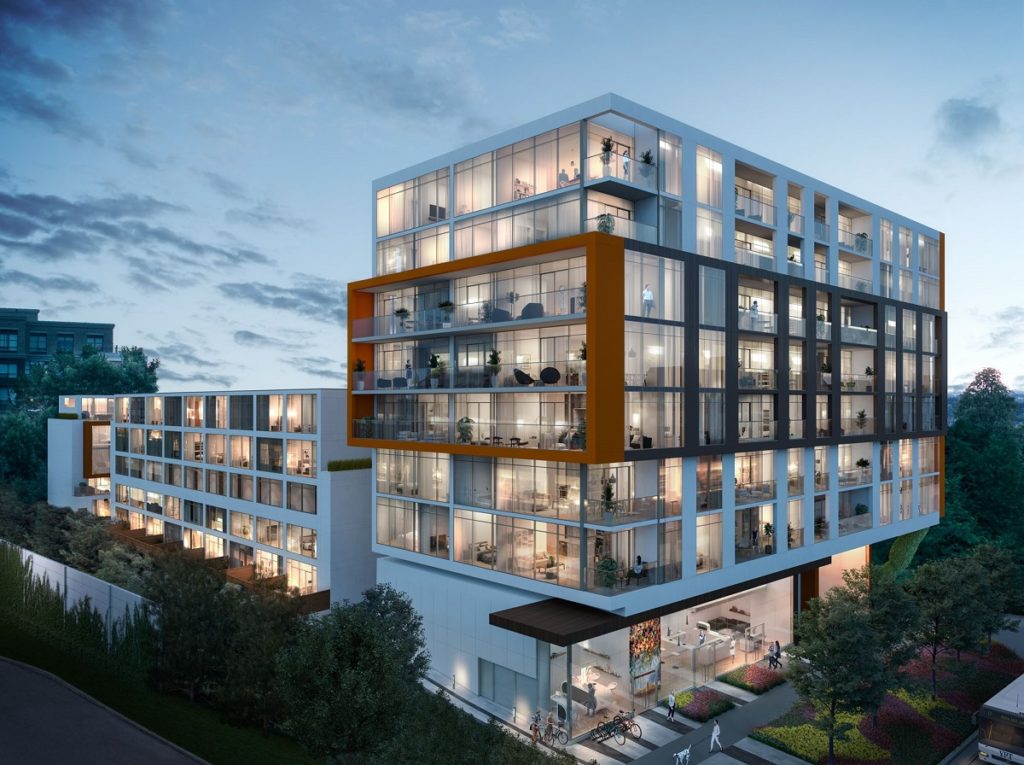 Development Name: Origin Lofts
Developer(s): The Sher Corporation & Nascent Developments
Architect: RAW Design
Interior Designer: –
Landscape Architect: –
Status: Pre-Construction
Number of Buildings: 4
Project Type: Lofts
Location: 9704 McCowan Rd., Markham, ON
Total No. of Units: 112
Unit Size: 635-1557 sq. ft.
Maintenance: approx. $0.49/sq. ft.  for the East Block; $0.41/sq. ft. for the North, South and West Block (Individually metered for utilities)
Taxes: estimated 0.75% of Purchase Price
Downpayment: 20% of purchase price (Canadian Resident); 35% of purchase price (International)
Occupancy: August 2021
Price range: Please register below for pricing
Design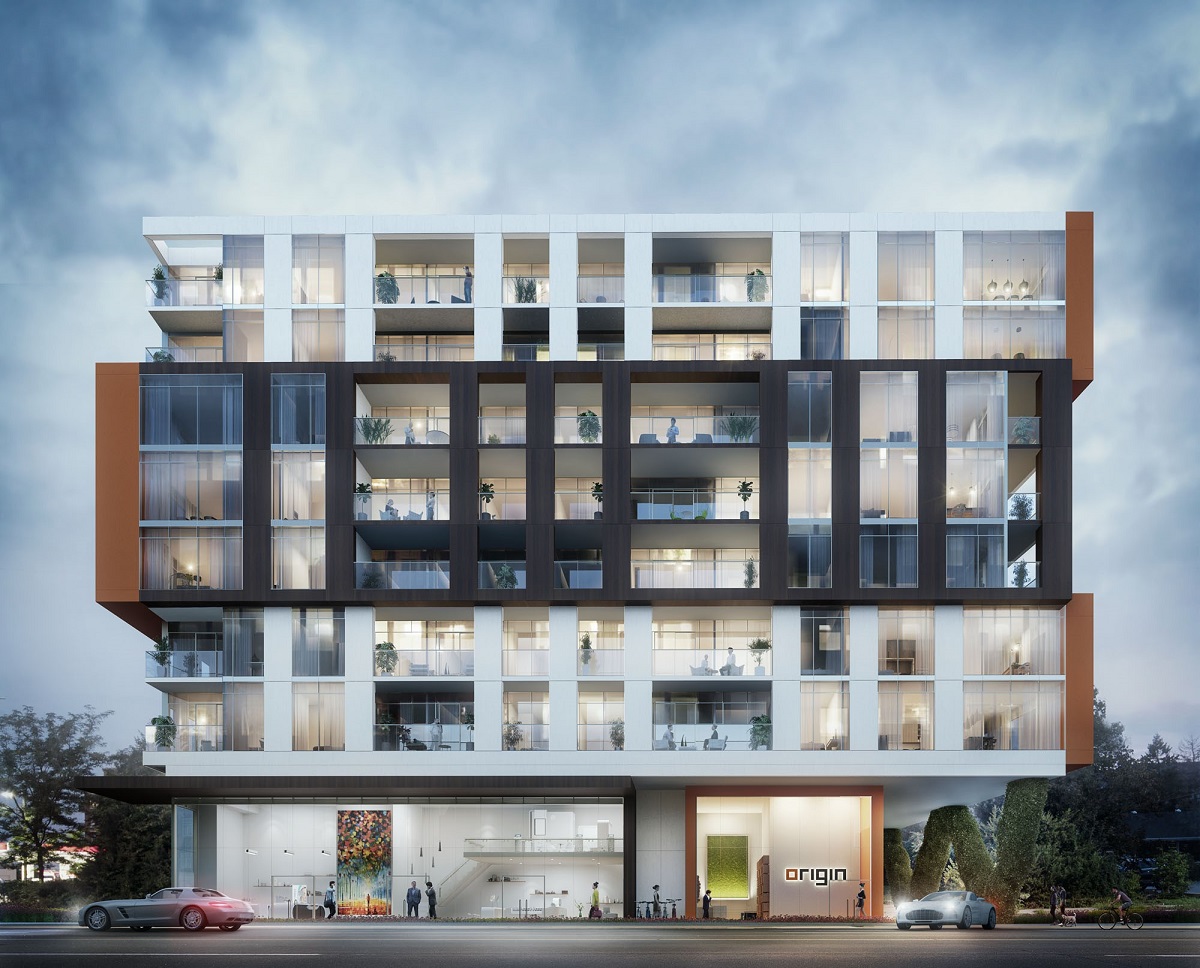 Origin Lofts consists of 112 lofts in four blocks.
East Block: 62 one-level lofts
North Block: 16 multi-level lofts
West Block: 17 multi-level lofts
South Block: 17 multi-level lofts
Origin Lofts consists of one eight-storey mid-rise building fronting McCowan Rd (62 lofts) and three five-storey low-rise buildings for a combined total of 112 lofts. The East Block at Origin is a stunning eight-storey building with 62 single levels lofts, indoor amenities, and retail-at-grade that will focus on health care. Professional services will be at your convenience. Meanwhile, the spacious two-and three-levels lofthouses of the North, West and South Block will feature full-width private garden patios and stunning oversized rooftop terraces – perfect for entertaining, relaxing, and enjoying the outdoors.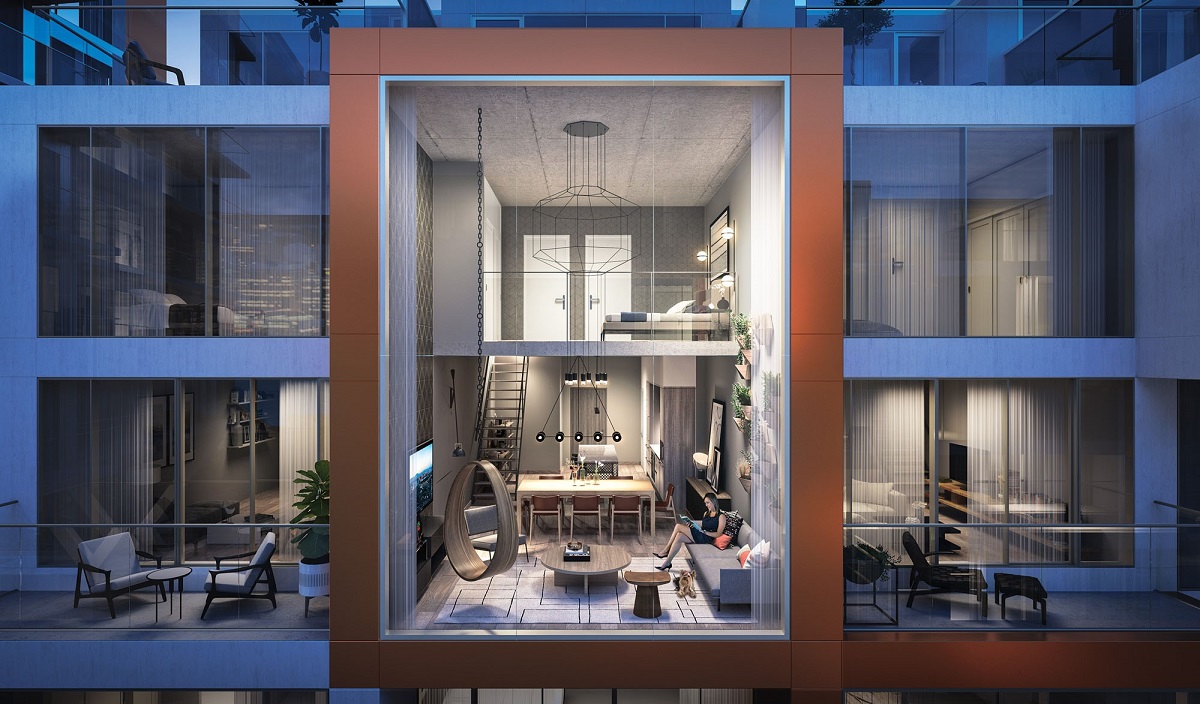 The sleek, modern design with bright, orange accents adds livelihood and a cheerfulness even on the dreariest of winter days. The varied textures and clean shapes create a community never seen in Markham before.
Green Building. Green Living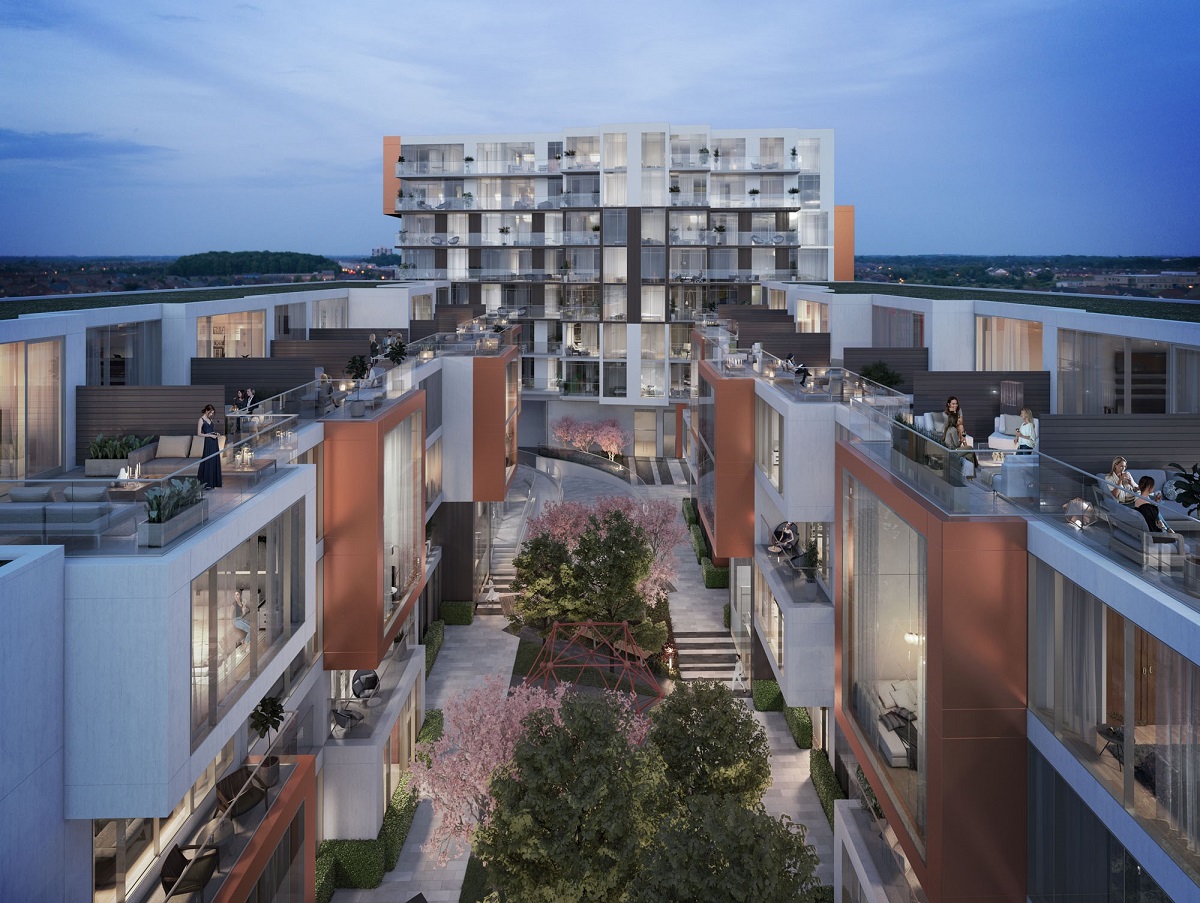 Did you know, the City of Markham is the first Canadian municipality to become a "Monarch-Friendly City"? As part of this green initiative, butterfly-friendly species such as milkweed, vibrant goldenrod, fragrant echinacea, a whole grove of cherry blossom trees. Furthermore, Origin Lofts will be built to LEED™ Silver Standards which means environmental-friendly building practices and sustainable materials. A green moss exterior and green roofs offer beautiful views in addition to reducing heating and cooling costs. When a building has been purposely designed to reduce its carbon footprint, its residents can live healthily every day.
Indoor & Outdoor Amenities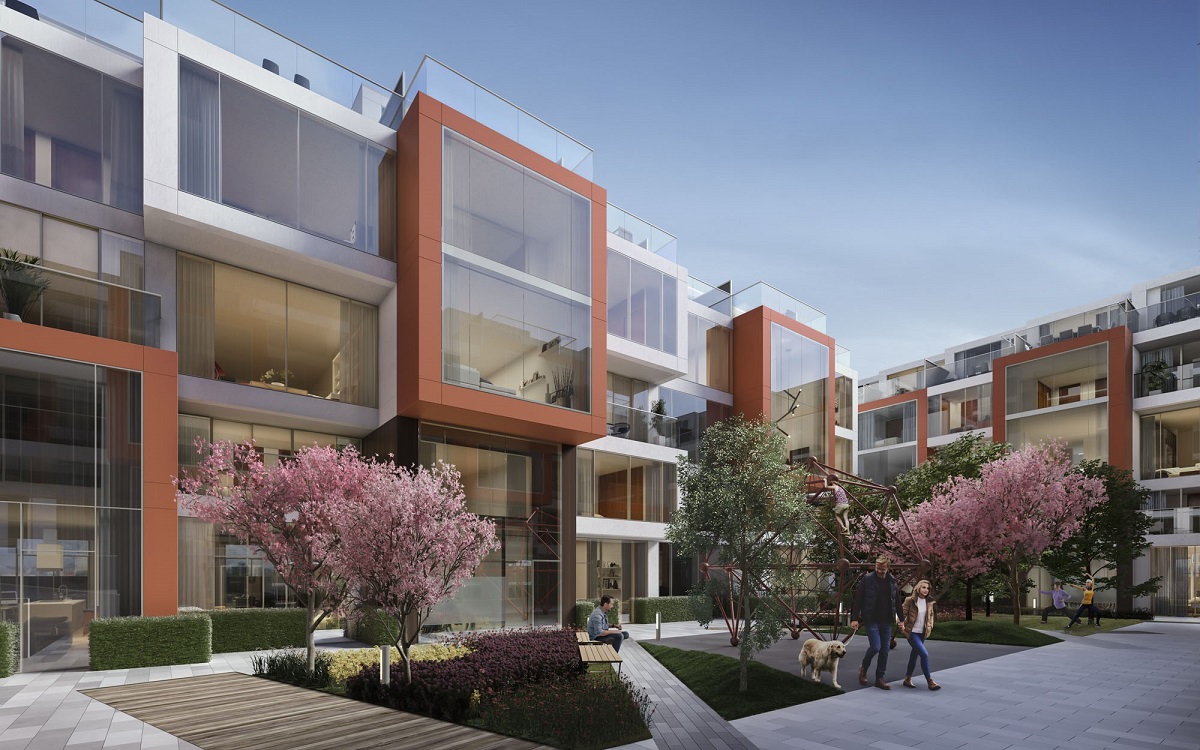 The East Block houses the majority of the amenities at Origin Lofts. This includes the wellness gym equipped with the latest workout equipment with an adjacent children's play room. The lounge is a great place to relax in the company of friends and you'll even have access to the garden patio featuring build-in BBQ firepit area, and trellised canopy. At the North Block, you will find conveniences such as a pet washing area, bike repair station, and a board game library. At the centre of it all is a zen-inspired courtyard with manicured greens and space for children to play. Everything has been carefully selected to suit the family-oriented lifestyle.
Design-Forward Features at Origin Lofts
Concrete construction
Individually controlled heat and cooing using a fan coil system
Three low-rise buildings are equipped with an elevator access the upper Lofthouses on the 3rd The elevator also services the Courtyard Level, P1 and P2
Up to 20ft high ceiling for open to below Lofthouses; 10 ft high ceiling son t main level of every loft; Upper levels of the Lofthouses are 9 ft 6 inch high
Large expansive windows
Lofthouses are designed as through lofts with windows on both sides
Multi-generational design provides for a bedroom or flex space on the main level along with a full bathroom
Italian kitchens and vanities
Integrated appliances
Cooking with gas
Access to great neighbourhood schools: Stonebridge Elementary and Pierre Elliott Trudeau High School
Care Share Program available on-site
5 minutes to 3 different GO Train stations: Mount Joy, Centennial and Markham
The Sher Corporation and Nascent Developments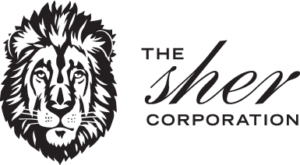 The strategic alliance of the Sher Corporation and Nascent Developments brings an unparalleled breath of knowledge in engineering, design, and the real estate market. Sher focuses on developing quality residences that push boundaries through a strong understanding of urban design and progressive modernism. Their past projects include Ivy Condos, Uovo Boutique Residences, and The Garden District Condos. Meanwhile, Nascent has establish a portfolio of luxury residential projects as well with a wealth of expertise in design/build, civil engineering, and project management. Nascent Developments' past projects include Harbour Six, Signature Five, and Leslieville Four.
Register to get immediate VIP access to more floor plans & pricing