About The Project
Status: Pre-Construction
Project Type: Condominiums Suites
No. of Buildings: 5
Storeys: 48, 43, 38, 32, 28
Total No. of Units: 2206
Unit Size: TBA (1-3 bedrooms)
Architect: Hariri Pontarini Architects
Planning: Bousfields
Interior Designer: TBA
Landscape Architect: TBA
Maintenance: TBA
Taxes: TBA
Downpayment: TBA
Price Range: Please register below for pricing.

As Markham continues be a popular choice for families and working individuals, more and more developers are choosing to build in Markham. Panda Markham is Lifetime Developments' ambitious mixed-use community that consists of 5 luxury towers at Warden Avenue and Highway 7. With more than 2200 suites in the buildings ranging from 28 to 48 storeys, Panda Markham is going to pioneer the skyline of uptown Markham. The suites will range from one to three-bedroom layouts designed by world-renowned architects, Hariri Pontarini Architects.
Neighbourhood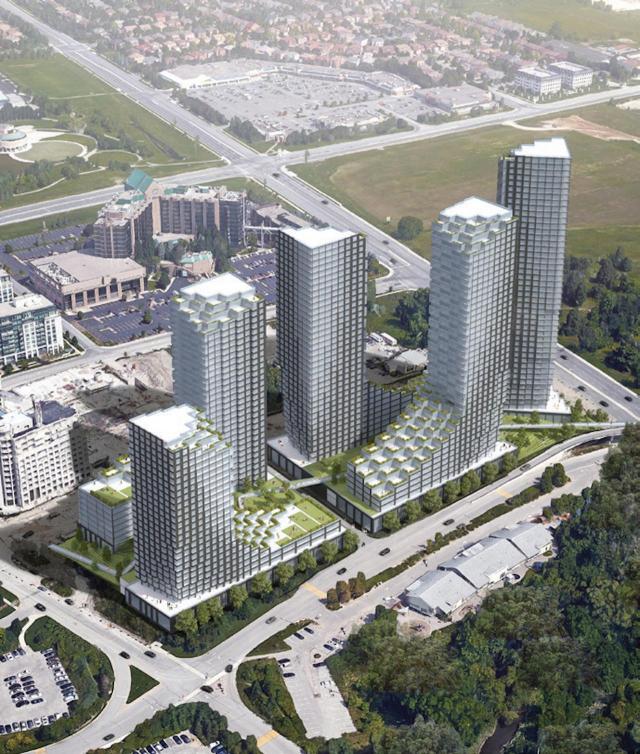 There is a reason so many people are choosing to live in Markham – top employers, safety, plenty of parkland, and wonderful restaurants. Employment opportunities are around the corner with top companies such as IBM, AVIVA, AMD, Lenovo, Toshiba, Qualcomm, and many more all located within Markham. Additionally, the City Hall is right across from Panda Markham where you'll find many city services as well as recreational skating in the winter! Markham is well-known for the best restaurants – countless eateries at First Markham Place, downtown Markham, New Kennedy Square, and Langham Square. Even if you just take a quick stroll from Panda Markham, you have Gal's Sushi, St. Louis Bar & Grill, Onezo Tapioca, and Patisserie Kirin to choose from. If cooking is more your forte, the many supermarkets – Wholefoods, No Frills, Longo's, T&T Supermarket, and Winco Food Mart – will supply you with all your culinary needs.
As Panda Markham lies west of Warden Ave., residents are able to enroll their children in one of Markham's top high schools – Union High School – which also has an excellent arts program. Other schools in the area include Coledale Public School, Buttonville Public School. St. Justin Martyr Catholic Elementary school, Bill Crothers Secondary School, and Markville Montessori Private School. Outside of school activities, Panda Markham residents can also look forward to sports and relaxing at Toogood Pond Park, YMCA, and Markham Pan Am Centre. Families can rest easy knowing that there are good schools and numerous areas for family outings at Panda Markham.
As all good locations necessitates, recreational activities are not a scarcity in this neighbourhood. Flato Markham Theatre, Hub Climbing, and Cineplex VIP Cinemas are just some of the many exciting places to spend your weekend afternoons at.
Transit
Panda Markham will utilize the city's best transportation infrastructure. Residents will have the VIVA rapid transit bus lanes right outside of their home which will also connect you to downtown Markham local businesses. The area also gives you quick access to the 407 via Warden Ave. and Highway 7 will allow you to travel from to the east and west ends of the GTA while also linking you to Highway 404. Lastly, the Unionville GO Station is only a 7-minute drive from Panda Markham.
Lifetime Developments

Panda Markham is a continuation of Lifetime Developments' success of Panda Condos in the heart downtown Toronto at Yonge and Dundas. All of Lifetime's development locations have been strategically chosen to bring the most convenience to residents whether that's through nearby transit options and/or ideal neighbourhood amenities. Lifetime continues to be at the forefront of Toronto's real estate and development sector and their successful portfolio shows that.
Past developments include:
XO Condos
Indx Condos
Panda Condos
The Code Condos
Four Seasons Private Residences
Hariri Pontarini Architects
Continuing their partnership from previous projects, Hariri Pontarini Architects, is working together with Lifetime once more to revolutionize Markham. As seen with the stunning building renders, Hariri Pontarini Architects are determined to create unprecedented designs never before seen in Markham. The monochromatic exterior cladding pays homage to the project's name – Panda Markham – while still retaining an aura of luxury and sophistication.
Panda Markham will be one of uptown Markham's largest and most impressive projects. Backed by a reputable developer, acclaimed architectural team, and superb location, Panda Markham is undoubtedly one of the condominium developments to keep your eye on.
PLEASE REGISTER TO VIEW FLOOR PLANS & PRICING