About The Project
UnionCity is a new luxury condominium residence is coming soon to Markham's Unionville community. Prices start from the $500's.
Project Name: UnionCity
Location: Enterprise Blvd and Kennedy Rd
Developer: Metropia
Status: Pre-construction
No. of buildings: TBA
Storeys: Tower 1 – 40 Storeys; Tower 2 – 44 Storeys
Building Type: Condos
Total no. of units: Tower 1: 370 Units, Tower 2: 414 Units, and Podium: 110 Units
Unit Breakdown: Studio, 1 Bed + Flex, 2 Bed, 3 Bed, Townhomes
VIP launch date: 2023
Estimated Occupancy Date: 2027
Register below to receive full pricing and floorplans!

Location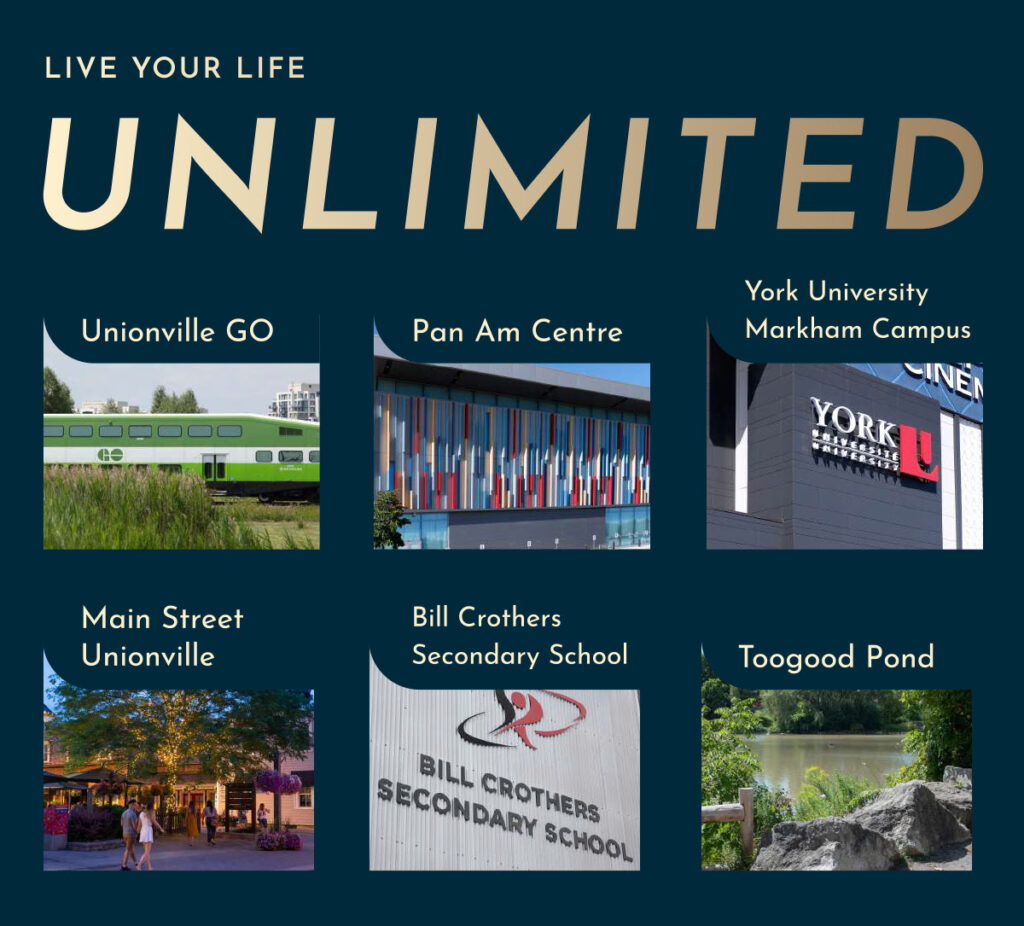 UnionCity is located in one of the most-desired neighbourhoods in Markham – Unionville. Its proximity to transit, community amenities, shopping, and employment make it ideal as everything is within walking distance.
Nearby:
Markham Pan Am Centre
York University Markham Centre Campus
Markham YMCA
Unionville GO Station
Cineplex Cinemas Markham and VIP
Historic Mainstreet Unionville
TooGood Pond
Named Canada's most diverse city by Statistics Canada – Markham has endless cuisine options. In just the 5-minute radius of Unioncity, the food and shopping options are too many to list. In the downtown Markham area, there's sophisticated french dishes at Terre Rouge, classic Italian dishes at Costa Sorrento, and Captain Boil for the seafood lovers. Just a few minutes west, the retail plazas at First Markham Place, SmartCentres Markham Woodside, Time Square Mall all offer a myriad of stores and dine-ins. Popular for its many local dessert shops, restaurants, and boutiques, Main St Unionville is just a short walk from UnionCity. Did you know? Its scenic aesthetics has also made it a popular filming destination in shows such as Schitt's Creek, Suits, and Gilmore Girls.
EDUCATION
Looking for a prime location near York University's new Markham Campus opening in 2024? Look no further than Union City! The York University Markham Centre Campus is set for completion in 2023 and is expected to generate over $350 million in immediate economic benefits and to create over 2,000 jobs. Many students and professionals will be looking to live in this area for this new York University campus. UnionCity is just adjacent to the new campus – making it a very worthwhile investment.
Union City is the perfect choice for students and professionals looking for modern, convenient living in the heart of York Region. With a focus on digital technologies, entrepreneurship, and experiential education, the new campus is set to become a hub for high-demand areas like business, data analytics, and new media. Plus, with a projected 34% increase in 18 to 22-year-olds in York Region over the next 20 years, Unionville, Markham is the ideal place to invest in your future. And with highly ranked elementary and secondary schools, you can feel confident in your decision to make Union City your new home.
Top-Ranked Education at UnionCity:
York University Markham Campus
Bill Crothers Secondary School
Unionville High School
William Berczy Public School
St. Justin Martyr Catholic Elementary School
UnionCity is simply unparalleled in its Unionville location.
Amenities
Residents of UnionCity can expect world-class amenities that rival those of high-end hotels. This luxury condominium will feature amenities such as a double-height, glowing jewel box co-working space that also functions as a social event lounge. Discover a haven of entertainment and relaxation at Union City's 6th floor. With plenty of indoor and outdoor activities available day and night, it's the perfect place to socialize and engage with others
Union House 5,000 sq. ft multi-purpose private resident's club
24HR Concierge
Lobby Lounge
Pedestrian Mews 35,000 sq. ft.
Party Room
Indoor Pool approx. 12.7 m x 6 m Fitness Studio
Golf Simulator
Indoor and Outdoor Children's Play Area Sport's Court
Billiards Lounge
6th Level Terrace 45,000 sq. ft
Dog Park approx. 1,615 sq. ft
Transit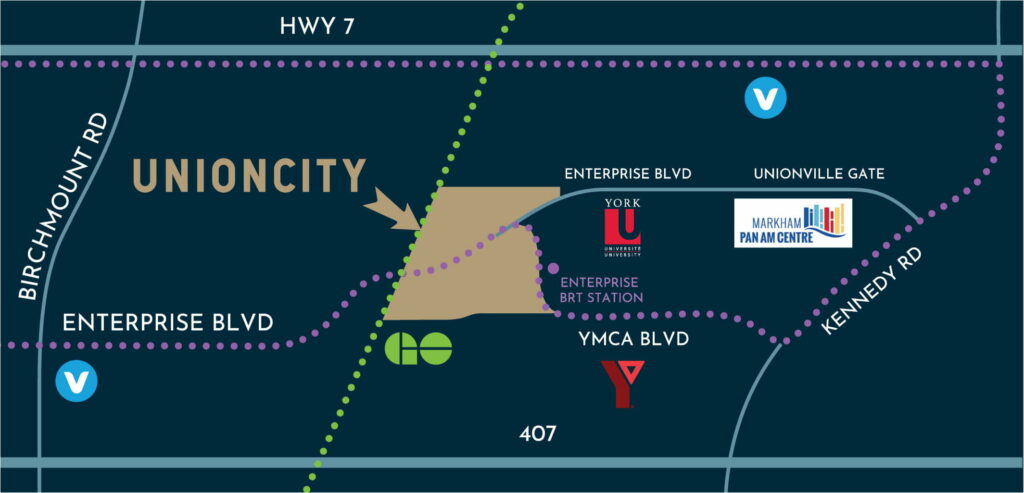 UnionCity is embedded within Markham's best transit hub. At the Unionville GO Station, you have connections straight to Union Station downtown Toronto via the GO train or bus. The GO trains to Union Station run every 15 minutes! The York Region Transit (YRT) and VIVA buses also have stops along YMCA Blvd and Enterprise Blvd making it quite easy for anyone living at UnionCity to get around. For those who drive, Highway 7 is to the north of UnionCity and Highway 407 to the south – both of these highways connect you to Highway 404/DVP in just a few minutes.
2 MIN TO HIGHWAY 407
5 MIN TO HIGHWAY 404
5 MIN TO HIGHWAY 7
Deposit Structure
$10,000 Bank Draft on Signing
Balance to 5% in 30 Days
5% on April 1, 2024
2.5% on October 1, 2024
2.5% on April 1, 2025
5% on Occupancy
Register below to receive full pricing and floorplans!
Developer

Metropia has been Canada's leading developer in high-quality real estate that provides Canadians with the value they're looking for in a home. Founded by Howard Sokolowski, a well-known professional, he has transferred his skills and knowledge to become the foundations of Metropia. Metropia's homes are perfectly curated to meet the present needs of homebuyers while also incorporating a contemporary edge that makes the homes lasting, adapting to future generations.
Their portfolio includes in the GTA include: Exhibit Residences, Emerald Park, e Condos, AYC, The Rocket, The Yorkdale Condominiums, e2 Condos, 11YV, Union Village, The New Lawrence Heights, and many more.
REGISTER FOR ACCESS TO FLOOR PLANS & PRICING UPON RELEASE